Apple's September keynote event was brimming with crowd-pleasing announcements. Leading the pack is the unveiling of the iPhone 8 and 8 Plus. The announcement of iPhone X also generated loads of buzz. In fact, tons of memes about the device is generated as we speak. Among all of these, the new Apple TV 4K also got its moment to shine on stage. Here is a close look at Apple's next-gen streaming set-top TV.
"The Magic of Cinema"
Apple claims to bring the "magic of cinema" into homes through the Apple TV 4K. Every little thing about its design is configured to give users a hard-to-beat cinematic experience.
The new Apple TV not only has support for 4K, it also comes with HDR (High Dynamic Range) support. This translates to richer and crisper images of whatever movie you intend to watch. Expect colors to be more true to life and highly detailed. Whether the scenes are dark or bright.
You can also access a wide range of HDR movies on iTunes via the television. Also, you can have access to 4K HDR content from other providers. These include Netflix and Amazon Prime Video.
Unbelievably Detailed Images
The main reason why the new Apple TV can provide such vivid viewing is the A10X Fusion chip. It's the same one that makes iPad Pro amazing. A truly groundbreaking chip that delivers super sharp and highly detailed images to viewers. This chip is definitely a future-is-here moment.
To make your viewing experience even more phenomenal, the new Apple TV 4K is built with must-have features. It has HDR10 and Dolby Vision support. Whether you are watching a movie or a TV series, expect an awesome viewing experience from start to finish.
The new Apple TV also has a built-in high-performance video scaler. This enables it to display HD content in a manner that's even better than what a regular 4K TV can give you. Aside from that, it outputs to the highest resolution all the time. And the new television also automatically optimizes any setup for best picture quality.
Cost and Release Date
The Apple TV 4K will be released this September 22nd. Pre-ordering starts one week prior to that. There are two SKU versions – 64GB and 32GB. Both will be available on the release date.
As for the cost, the 32GB version will sell at $179. Meanwhile, the 64GB television retails at $199. At the moment, there is no 128GB version.
All in all, although not exactly cheap, this television is great for everyone looking to upgrade their entertainment set and viewing satisfaction.
And since a new Apple TV will soon be released, expect the price of the older versions to drop. The previous-generation model is still a great choice if you've been wanting an Apple TV but has been deterred by the price.
Other Upgrades
Aside from the improved HDR capabilities, the new Apple TV 4k has more upgrades to boast about. It has 3GB of RAM. Combined this with the A10X Fusion chip and you get a faster-processing TV. Since you can also access iTunes content, expect those content and other apps to load faster than before.
There are just some concerns about the storage though. As mentioned, only 32GB and 64GB versions are available at the moment. Also, Apple recently announced that they've increased the file size limit of apps. Applications can now be as large as 4GB. With that said, the low storage availability might be a problem. It remains to be seen if a 128GB will ever come out of the gate.
tvOS Improvements
Hardware isn't the only thing improved in the new Apple TV 4K. It has been announced that tvOS got a facelift too.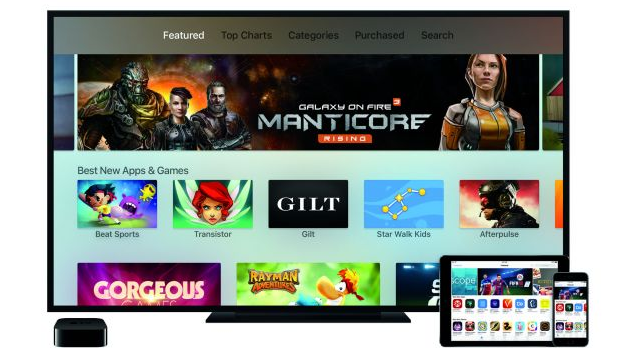 Tim Cook, Apple's CEO, outlined these upgrades in a statement. He said that both tvOS and the new Apple TV are "building the foundation for what [Apple] believe can be a broader business over time."
Apple TV 4K and Siri
Similar to the previous Apple TV, this recent one works with Siri. You can use Apple's smart AI to search for content to watch. Make use of the voice assistant to find great shows from various apps. You can search by a movie's cast, genre, and even critical reception. Want to control a video's playback without using your hands? No worries, Siri can help you with that.
Content
Apple has been lagging in terms of providing original content within their platform. It has also done poorly when it comes to closing deals with popular TV production companies. They also had plans for live TV streaming but has yet to come about.
One good announcement during the press event, however, was the integration of Sky. This is a new game from thatgamecompany. The game is all about exploration and also has a light social element. In its essence, players will have to go soaring around the skies to collect burst of lights from across the world. As announced during Apple's September press event, this game will come first to Apple TV. iPhone and iPad users will be able to enjoy it too.
Apple is also hard at work in producing their original video content. They currently have apps like Carpool Karaoke and Planet of the Apps. More applications should be coming in the next few months.
70 Views
0
---
---